Dr. Mohammad Hossein Nekoofar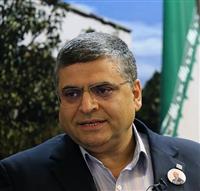 Dr. Mohammad Hossein Nekoofar is an academic member of Endodontics department in Tehran University of Medical Sciences (TUMS) where he received his DDs (1989). For his M.Sc, he worked on Electronic Root Canal Length Measurement Devices (1993,TUMS). In 1994, he became a Diplomate of the Iranian board of Endodontics. His PhD projects were focused on investigating Calcium Silicate cements and lead to his graduation in 2011 from Cardiff University, UK. Working on Regenerative Endodontics and Stem Cells, he is already responsible for teaching in department of Tissue Engineering and Applied Cell Sciences in TUMS. Simultaneously he is an honorary Senior Lecturer in Endodontics and Dental Biomaterial in Cardiff University and teaches postgraduate courses such as surgical endodontic courses, biomaterial endodentics.
Dr. Nekoofar also has a strong sense of leadership and management. He has been the president of Iranian Association of Endodontics since 2013 and the Group Leader of Endodontolgy Research Group in Cardiff University since 2004 up to now.
He has written more than 40 papers, published in peer-reviewed journals which have been cited more than 1100 times. He has been invited as a keynote speaker internationally to give lectures in different professional dental/endodontics congresses or Universities around the world such as Irish Endodontics Society (Dublin 2008), American Association of Endodontics (Vancouver 2008), European Society of Endodontology (Rome 2011), Turkish Endodontic Society(Istanbul 2012 & 2014), NIVVT symposium (Belgium 2014),University of Illinois at Chicago (UIC 2015), Indiana University/School of Dentistry (Indiana 2015), International Association of Dental Research CED (Antalya 2015).
He is a member of the editorial board of the International Endodontic Journal and also acts as a scientific reviewer for a series of endodontics/dental journals.
His research interests mainly focus on Electronic Root Canal Length Measurement Devices, Calcium Silicates, Post-operative Pain in Endodontics, Treatment of Immature Root Canals, Automated Root Canal Preparation, Physiopathology of Periapical Lesions and Regenerative Endodontics.