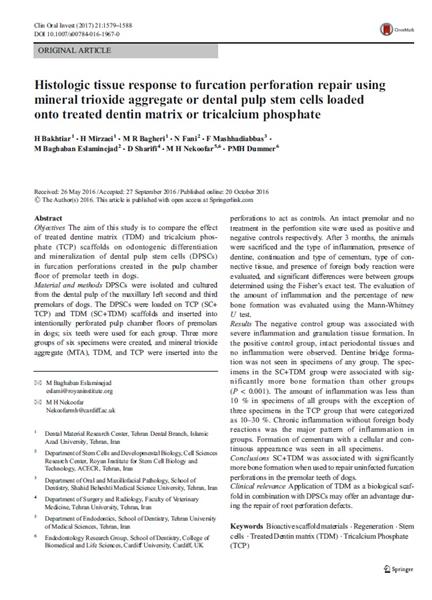 Histologic Tissue Response to Furcation Perforation Repair Using Mineral Trioxide Aggregate or Dental Pulp Stem Cells Loaded onto Treated Dentin Matrix or Tricalcium Phosphate
Abstract
Objectives: The aim of this study is to compare the effect of treated dentine matrix (TDM) and tricalcium phosphate (TCP) scaffolds on odontogenic differentiation and mineralization of dental pulp stem cells (DPSCs) in furcation perforations created in the pulp chamber floor of premolar teeth in dogs.
Material and Methods: DPSCs were isolated and cultured from the dental pulp of the maxillary left second and third premolars of dogs. The DPSCs were loaded on TCP (SC+TCP) and TDM (SC+TDM) scaffolds and inserted into intentionally perforated pulp chamber floors of premolars in dogs; six teeth were used for each group. Three more groups of six specimens were created, and mineral trioxide aggregate (MTA), TDM, and TCP were inserted into the perforations to act as controls. An intact premolar and no treatment in the perforation site were used as positive and negative controls respectively. After 3 months, the animals were sacrificed and the type of inflammation, presence of dentine, continuation and type of cementum, type of connective tissue, and presence of foreign body reaction were evaluated, and significant differences were between groups determined using the Fisher's exact test. The evaluation of the amount of inflammation and the percentage of new bone formation was evaluated using the Mann-Whitney U test.
Results: The negative control group was associated with severe inflammation and granulation tissue formation. In the positive control group, intact periodontal tissues and no inflammation were observed. Dentine bridge formation was not seen in specimens of any group. The specimens in the SC+TDM group were associated with significantly more bone formation than other groups (P < 0.001). The amount of inflammation was less than 10 % in specimens of all groups with the exception of three specimens in the TCP group that were categorized as 10–30 %. Chronic inflammation without foreign body reactions was the major pattern of inflammation in groups. Formation of cementum with a cellular and continuous appearance was seen in all specimens.
Conclusions: SC+TDM was associated with significantly more bone formation when used to repair uninfected furcation perforations in the premolar teeth of dogs. Clinical relevance Application of TDM as a biological scaffold in combination with DPSCs may offer an advantage during the repair of root perforation defects.
Keywords: Bioactive Scaffold Materials, Regeneration, Stem Cells, Treated Dentin matrix (TDM), Tricalcium Phosphate (TCP).